December 2021 FSA Council temporary spot election
Jump to navigation
Jump to search
December 2021 FSA Council temporary spot election

---
 
Candidate
General Security
Adam Hegazy
Unbojih
Party
Conservative Party
Conservative Party
Conservative Party
Percentage
78.9%
15.8%
5.3%

---

 
Candidate
Duč
Greek Revolutionary Mapping
Party
Liberal Party
Liberal Party
Percentage
0%
0%
---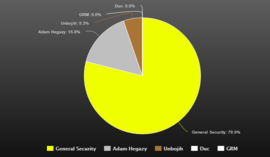 Results of the election
---
The December 2021 FSA Council temporary spot election occurred on December 19th, 2021. The incumbent of the temporary seat General Security won re-election. Four other candidates have declared their candidacy. Unbojih and Adam Hegazy are running under the Conservative Party while Greek Revolutionary Mapping and Duč are running under the Liberal Party. However, on December 15th, 2021, Duč announced that he had dropped out of the race. However, it was too late to have his name removed from the election ballot. This election also introduced a new voting system, which only allowed one vote from an e-mail address. This was done due to Greek Revolutionary Mapping attempting to ballot stuff polls to make the polls more in his favor. Sossie threatened to disqualify him but Konnor decided to let him stay in the race. However, Greek Revolutionary Mapping had left TMAFE near the early voting period following the chat being extremely aggressive towards him. However, it was too late for him to be removed from the ballot, so he stayed on the ballot.
Campaigning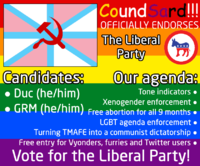 Campaigning this election varied from other previous elections with Soundcard endorsing both Duč and GRM. The purported agenda of SC and the candidates included "turning TMAFE into a communist dictatorship", "free entry for Vyonders, furries and Twitter users" or "xenogender enforcement". This harmed both of the candidates and caused the TMAFE chat to attack them and start a #NoToGRM&Duc hashtag. Soundcard also attacked the TMAFE server spamming their endorsement, further polarizing the race. This caused others to spam ping with messages telling people to not vote for Duč or GRM. The Conservative Party Committee of TMAFE used the Soundcard endorsement to its advantage and advocated for people to vote General Security, Adam Hegazy, or Unbojih. In reality, Soundcard did not actually like any of the candidates due to poor personal relations.
Endorsements
This was the first council election in which a council member changed an endorsement. United World changed his endorsement after the December 2021 TMAFE Advisor election and the upset that occurred. Duč also dropped out of the race in the debate, causing Sossie's endorsement of Duč to go away.
Predictions
General Security was largely expected to win re-election. It had a small chance of being competitive due to Duč and Greek Revolutionary Mapping running, both of which were former council members.
| Date | Ranking |
| --- | --- |
| December 5th, 2021 | Safe Conservative |
Polling
Polling data

| Poll Date | General Security | Adam Hegazy | Unbojih | Duč | GRM |
| --- | --- | --- | --- | --- | --- |
| December 5th, 2021 | 42.9% | 35.7% | 14.3% | 0.0% | 7.1% |
| December 8th, 2021 | 40.0% | 33.3% | 26.7% | 0.0% | 0.0% |
Results
Trivia
This election continued the trend of people not declaring their candidacy immediately after the previous election.
This election had a small chance of being competitive.
This election had a large possibility of leading to the first runoff election in TMAFE election history. However, polarization caused most of TMAFE to unite behind one candidate.
This was the first election since Sossie's landslide that one party won 100% of the vote.