January 2022 FSA Council temporary spot election
Jump to navigation
Jump to search
January 2022 FSA Council temporary spot election

---
| | | |
| --- | --- | --- |
|   | | |
| Candidate | Chaogamer | Cat Gamer 1 |
| Party | Conservative Party | Conservative Party |
| Percentage | 94.4% | 5.6% |
---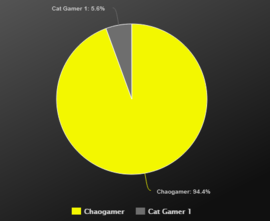 Results of the election
---
The January 2022 FSA Council temporary spot election had occurred on January 19th, 2022. The incumbent of the temporary seat General Security was term-limited and thus cannot seek re-election. Both Chaogamer and Cat Gamer 1 were running under the Conservative Party. Chaogamer won the election once all the results were in.
Campaigning
Chaogamer began campaigning early as soon as he declared his candidacy. He campaigned on issues such as bringing more common sense into TMAFE and focused on religious and social issues. Chao had also rallied the server into banning all neopronouns instead of banning a select few and has also stated he will be playing full offense on progressives.
Endorsements
Predictions
Chaogamer was largely expected to win the election.
| Date | Ranking |
| --- | --- |
| January 15th, 2022 | Safe Conservative |
Results
Trivia
This election did not have a Liberal Party candidate.
Unlike previous elections, a candidate had declared their candidacy early on.