September 2021 FSA Council temporary spot election
Jump to navigation
Jump to search
September 2021 FSA Council temporary spot election

---
| | | | |
| --- | --- | --- | --- |
|   | | | |
| Candidate | Cyberblue | Adam Hegazy | Pollball |
| Party | Conservative Party | Conservative Party | Conservative Party |
| Percentage | 90.9% | 4.5% | 4.5% |
---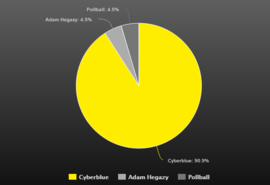 Final results of the election
---
Council member before election


Cyberblue
Conservative Party

Elected Council member


Cyberblue
Conservative Party
The September 2021 FSA Council temporary spot election occurred on September 19th, 2021. The three candidates running in this election were the incumbent Cyberblue, Adam Hegazy, and Pollball. All three of the candidates are running under the Conservative Party. TheNixMin attempted to run under the Liberal Party but was declined by Sossie from running due to past controversies. Cyberblue came out on top in the election with 90.9% of the vote, with both Adam Hegazy and Pollball trailing behind with 4.5% of the vote each.
Campaigning
On election day, campaigning consisted of spam pings done by both sides and telling people to vote for a candidate they like.
Endorsements
Predictions
Most TMAFE members were predicting that Cyberblue may hold his council seat due to his popularity and incumbency advantage. Unlike the last election, there was no polling through this cycle due to it largely expected to be in Cyberblue's favor considering it was not an open seat that anyone can pickup.
| Date | Ranking |
| --- | --- |
| September 18th, 2021 | Safe Conservative |
Results
Trivia
This was the first council election ever that has had Iluy95studios not run excluding when he got term limited in February 2020.
Pollball had decided to switch parties after his loss in the August 2021 FSA Council temporary spot election.