September 2021 FSA Council temporary spot special election
Jump to navigation
Jump to search
September 2021 FSA Council temporary spot special election

---
| | | |
| --- | --- | --- |
|   | | |
| Candidate | Adam Hegazy | Pollball |
| Party | Conservative Party | Conservative Party |
| Percentage | 90.5% | 9.5% |
---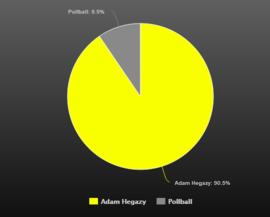 Final results of the election
---
Council member before election


Cyberblue
Conservative Party

Elected Council member


Adam Hegazy
Conservative Party
The September 2021 FSA Council temporary spot election occurred on September 19th, 2021. Cyberblue had won the previous election with 90.9% of the vote, and since Sebastian's seat had been declared vacant just a day prior to the election, he was appointed to fill Sebastian's permanent seat. The two candidates from the September 2021 FSA Council temporary spot election are running in this election and include Adam Hegazy and Pollball. Both of the candidates in this election were running under the Conservative Party. When all votes were counted, Adam Hegazy had won the seat with over 90% of the vote, continuing the landslide streak started by Cyberblue following the previous election.
Campaigning
Campaigning in this council election consisted of Chat Revive Ping spam and nicknames like the previous elections. However, this election has mainly used nicknames as a way to promote a candidate instead of spamming the Chat Revive Ping.
Endorsements
Predictions
Most TMAFE members currently saw the race in Adam's favor, but Adam's trolling has a chance to reduce his margin or victory or cost him the election entirely. In the end, Adam only lost a few votes from trolling, and the members were still upset about Pollball's personal stances on issues such as abortion.
| Date | Ranking |
| --- | --- |
| September 19th, 2021 | Safe Conservative |
Results
Trivia
This is the third council special election in TMAFE history.
This is the third election to have Pollball present on the ballot, all three of which have been consecutive.
This is the second consecutive election to have a candidate win with at least over 90% of the vote.